Our Services and Amenities
Our Care Program is based on the most current research and education in the field of aging, including dementia and Alzheimer's disease, mild cognitive impairment (MCI), Parkinson's disease, diabetes, and nephrology.
We offer a "full care" program, which includes regular visits from physicians, dentists, podiatrists, and psychiatrist. Physical therapists work with our Residents based on doctors' orders, and we have LVN's on staff who can administer insulin injections. When needed, Vista Gardens works closely with hospice companies and has a hospice waiver for up to 25 patients.
Our Program Includes:
Extensive all-inclusive pre-admission assessment
Three levels of caregiving: MCI, mild to
moderate level and late-stage care
Licensed nurses available 7 days a week
Medication management
Routine care plan to family
Stability and falls education (SafelyYou™
fall detection software)
VisionLink™ Wireless Nurse Call System
Electronic record system
Our famous "Breakfast Club" daily~MCI cognitive
and mind exercise group
Outings two-three days a week
Diabetic insulin care 24-hours a day
Additional Services Available
Physical therapy, Occupational and Speech therapy
Cognitive Care Solutions: Licensed Clinical
Social Worker with one on one cognitive
therapy
Mobile dentist
Hospice Service
Home Health Contracted Assistance
Massage and Hydrotherapy
Features & Amenities
Vista Gardens is located on a large 5-acre park setting with the following features and amenities:
Putting green
Outdoor garden and tranquility gardens
Walking paths
Luxury patio cabanas
Sprint train
Transportation to and from medical appointments in our wheelchair-accessible van
Onsite beauty salon
Monthly family support groups
Residents' Council meetings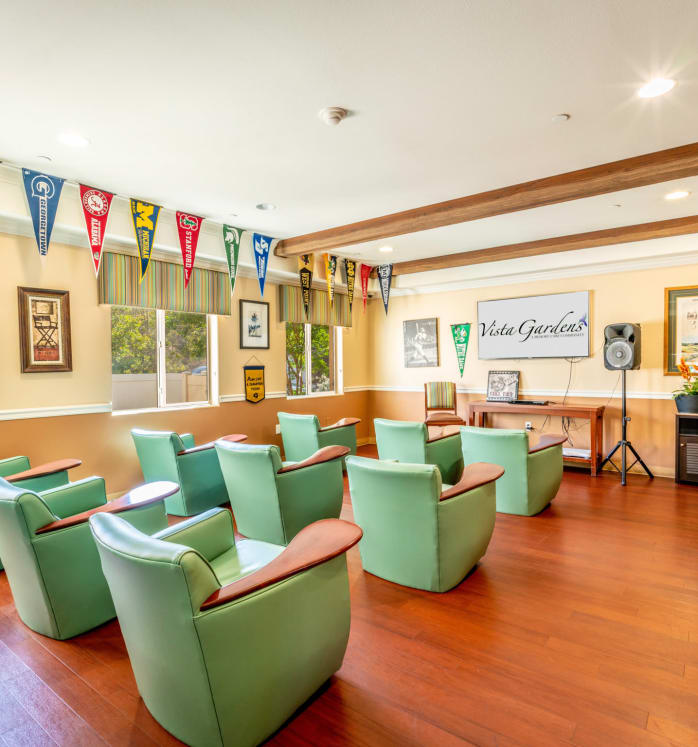 My Mom couldn't be more happy. She feels respected, loved, and independent (even though she is under constant watch and care). No question this is the right place for my Mom and I highly recommend it. I would like to thank all of the staff at Vista Gardens for their constant care, love, and attention. I know my Mom is in a safe place. A++ or as my Mom would always say: "BRAVO!"
– Richard S.